Basic Tutorial 1: Connecting to remote host computers
FTPShell client will allow you to connect to remote computers and browse files and folders made available by the FTP server.
1. Open a new session: Open a new session window by clicking on the 'New FTP Session' item from the 'File' menu (or press the 'Ctrl' and 'N' keys on your keyboard.

A new session window is opened. Multiple session windows can be open at the same time, with each session connected to a different FTP site.
2. Provide FTP site information: Next we need to enter some details about the FTP site that we want to connect to. Type in a descriptive name for the site. If you do not specify a name, the FTP site address will be used as the descriptive name. The internet address and the connecting port must be specified. The FTP address may be in IP notation (eg. 127.0.0.1) or a text based address (eg. ftp.pcgamer.com). The default port number for FTP is 21, but other ports may be used.

If the FTP site is a public FTP site, you can leave the user name at its default value (anonymous). Type in you e-mail address as the password. For non public access, type in the username and password that was provided to you by the system administrator of the computer that you are connecting to.
3. Connect and browse: Finally, click on the connect button to initiate a connection to the remote host computer.

After you are connected to the remote computer, you can browse files and folders efficiently using the built-in dual pane file browser.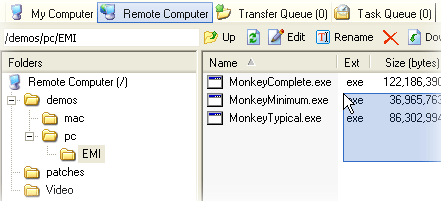 Continue to Basic tutorial 2: Transferring files and folders